For over 40 years, Ocon Chemicals has provided Irish school laboratories with safe, compliant laboratory waste management solutions tailored their precise needs. Along with our laboratory waste collection and disposal service we also offer a comprehensive range of UN approved packaging including drums, buckets, bins, bulk containers, solvent containers, and sharps containers.

Let us put our expertise to work for your school. Contact us for a free consultation on how best to tackle your school's laboratory waste management needs.

Collection & Disposal

We will call to your school to an agreed schedule, classify and segregate your laboratory waste, and transport it securely for compliant treatment and disposal.

Guaranteed Compliance

Our team of waste management experts from our HazChem and ADR trained drivers to our in-house DGSA advisors guarantee a safe, compliant service in accordance with our ISO 9001:2015 certified procedures and waste transfer protocols.

Documentation
We guarantee full traceability on all waste disposal transactions via our waste disposal documentation, and certificates of destruction.

Recycle and Recovery

We offer a comprehensive, end-to-end recycle and resource recovery service to convert your hazardous waste into new materials, products, and energy sources.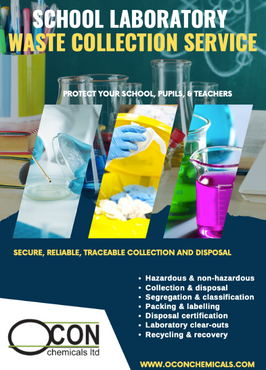 Download our Waste Management Services PDF to get a full overview of all waste services we offer our clients.